While it's not as taboo as it used to be (who else would be burned at the stake if they were born in a different era? 🙋‍♀️), masturbation still isn't the hottest topic of conversation. Which is odd, seeing as how 94.5% of women have gone solo at least once in their life.
Sure, we may acknowledge the act amongst our closest gal pals, but how many of us are trading tips and tricks? Giving recommendations? Swapping success stories? Not enough; that's how many. And while this unintentional gatekeeping may seem harmless—we all have access to internet how-tos, right?—staying silent about our solo sports just contributes to the ongoing issue of women not knowing how to operate their own bodies.
Sex Ed From Samantha Jones Of Sex And The City
When it comes to being an advocate for female sexual empowerment, we should all strive to be Samantha Jones of Sex and the City. Everyone's favorite promiscuity champion, Samantha had no qualms when it came to sex. Even though it's unbelievable why masturbation isn't taught in sex ed, Samantha taught us that it was okay to enjoy sex and pleasure without shame and that self-pleasure was the only pleasure worth chasing.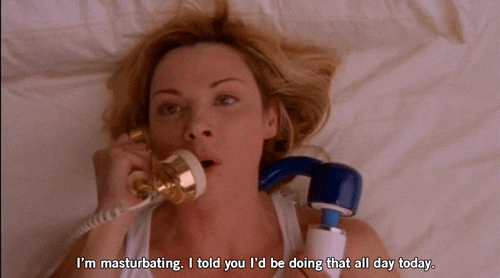 Finding Samantha's Missing O
So it was understandably a total crisis when out of nowhere (in Season 4, Episode 8), Samantha "lost" her orgasm.
In the episode titled "My Motherboard, My Self," Samantha announces to Carrie and Charlotte that she just spent the last two hours "f--king with no finale." While the girls try to console her that sex can still be fun without an orgasm (whilst also being a little stunned that she finishes every time), Samantha is determined to find her missing O.
She famously says: "when I RSVP to a party, I make it my business to come."
Desperate to regain her mojo, Samantha pulls out everything from her bag of tricks: dildos, vibrators—and what was her very first go to?! The ol' faithful bathtub faucet.
Many Women Experience Their First Orgasm With Water
Watching Samantha's feet crawl up the tile of her tub was quite likely the first time bathtub masturbation - aka bathturbation or fauceting - was shown on TV. So unless you were lucky enough to have a super cool big sister or fortunate enough to discover it on your own (like our founder, Maureen Pollack, did), then chances are you had no idea masturbating in the tub was a thing.

This was the reality for writer Zia Moon of Sex And The City, who penned an essay on Medium about experiencing this very thing. Intimidated by the gizmos and gadgets associated with masturbating (as all of us were at 14), she was inspired by Samantha's "masturbatory method" and used it to have her very first orgasm ever.
"The feeling of pride was immense and the next day I went into school and bestowed my knowledge upon every girl I knew about the tap," she writes. Man, if only we were all lucky enough to attend school with a Zia. But sadly, most of us didn't and if SATC wasn't allowed or wasn't on your radar, then neither was the knowledge of "the tap."
So if you are privy to this method of pleasure, please, share your wisdom. Secrets don't make friends, and your friends will be very thankful if you let them know about the mind-blowing pleasure lying just behind their bathroom door.
Turn Your Bathtub Into Your Favorite Sex Toy
And make sure you tell them that they don't have to rely on the bathroom acrobatics of their youth to use the bathtub faucet to masturbate. The WaterSlyde—a revolutionary water diverter that attaches to your faucet and delivers a seriously hypnotic stream of H2O right where you want it—would have made Samantha's bathroom antics a whole lot more comfortable.
So if you're still subjecting yourself to scooting, add the WaterSlyde aquatic stimulator to your self-love routine. It's a body-safe, OB/GYN-approved, and responsibly-made device that will completely change the way you bat
Benefits of Bathtub Masturbation
💧 A total, hands-free experience. Yup - your hands are free to do WHATEVER they please! The WaterSlyde also makes fauceting disability-friendly for those who aren't able to easily maneuver and just want to lay back comfortably and enjoy the power of water.

💧 A natural, deeper, slower pleasure journey that feels like everlasting oral—and is a far cry from the crazy-fast sensations our vibrator has us used to.
💧 A new feeling every time you use it, as the rhythm of water is never the same.
And that's really all there is to it. Once that faucet is turned on, it's totally up to you how turned on you want to be. The WaterSlyde is great for both stirring up arousal and reaching orgasm. Either way, bathtime just got a lot more fun 😎.
So if you've lost your orgasm, give 'Ol faithful a whirl with the WaterSlyde. It can definitely help you find it...again...and again...and again.
About The Author

Emily Blackwood is a freelance journalist committed to answering the plaguing question of what makes us truly happy. Turns out, it's a lot. Her work has been published in SELF, HuffPost, and YourTango. You can learn more here.
___________________________________________________
Medical Disclaimer: The information provided here is intended for educational and informative purposes only and is not intended to serve as medical or professional advice. If you have any concerns or questions about your health, you should always consult with a physician or other health-care professional.

Sex & Pleasure Essentials